High-precision milling and coordinate grinding on the same machine
Versatile and economical
High-precision milling and coordinate grinding on the same machine
Milling and Grinding Center in One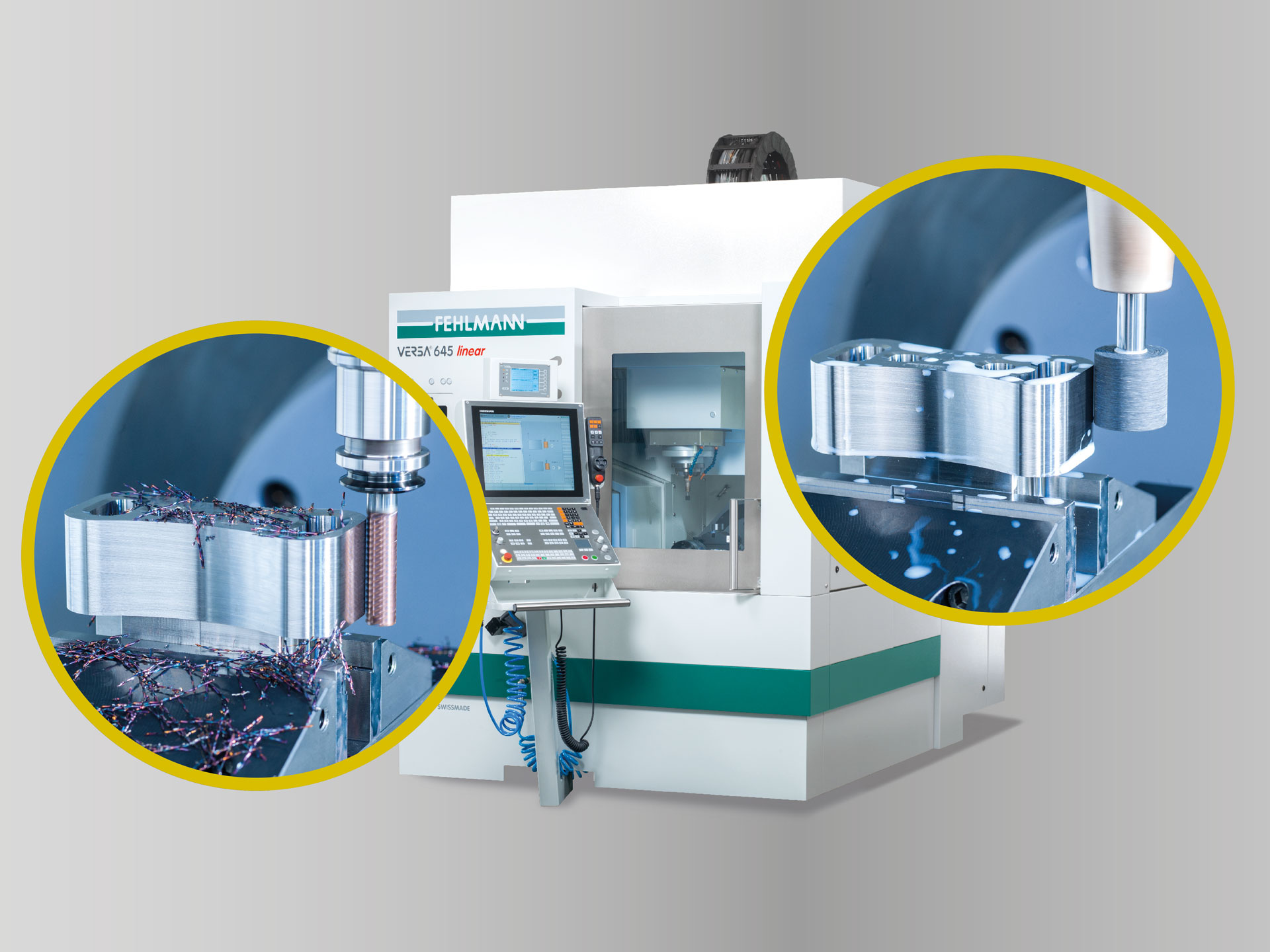 High-precision milling and coordinate grinding on the same machine 
Versatile and economical – one machine for two processes.
The FEHLMANN VERSA family is impressive — with its solid construction and remarkable mechanical accuracy. High temperature stability with extremely low thermal growth is another one of the amazing features of these versatile machining centers in portal design — making them the ideal machines to use for coordinate grinding. 
The decision whether to use hard milling or coordinate grinding requires the evaluation of costs, machining time and precision. FEHLMANN solves this problem with the VERSA 645 linear and the VERSA 945 with coordinate grinding function. 
Both processes are perfectly combined on one machine. You can decide case-by-case and with great flexibility how to achieve the desired surfaces most economically.
Advantages of combining hard milling and grinding:
Versatile and economical – one machine for two processes
Time-savings with one-time clamping of workpiece for milling and grinding. No more re-clamping necessary
Shorter machining times thanks to two processes on same machine
Multi-use of precision: make a one-time investment in high precision and benefit twice thanks
to the combination of milling and grinding
Increased efficiency due to high process reliability
Parts can be precisely pre-milled before grinding, ensuring a perfectly pre-finished part.
Elimination of varying offsets caused, for example, by warpage during hardening
Consistent excellent surface quality and contour accuracy: due to choice of most
suitable machining strategy and automatic dressing of grinding tool
Simple programming: grinding functions such as pendulum stroke and dressing can be
easily integrated into the program after milling
Please feel free to contact us – we would be pleased to provide you with more information about this new product.
Fehlmann AG Maschinenfabrik 
Birren 1 - 5703 Seon / Switzerland 
Phone +41 62 769 11 11 
www.fehlmann.com - mail@fehlmann.com