Now open: new FEHLMANN showroom in Isernhagen
Experience FEHLMANN technology – now also in the Hannover area
Now open: new FEHLMANN showroom in Isernhagen
NEW: FEHLMANN showroom in Isernhagen by Hannover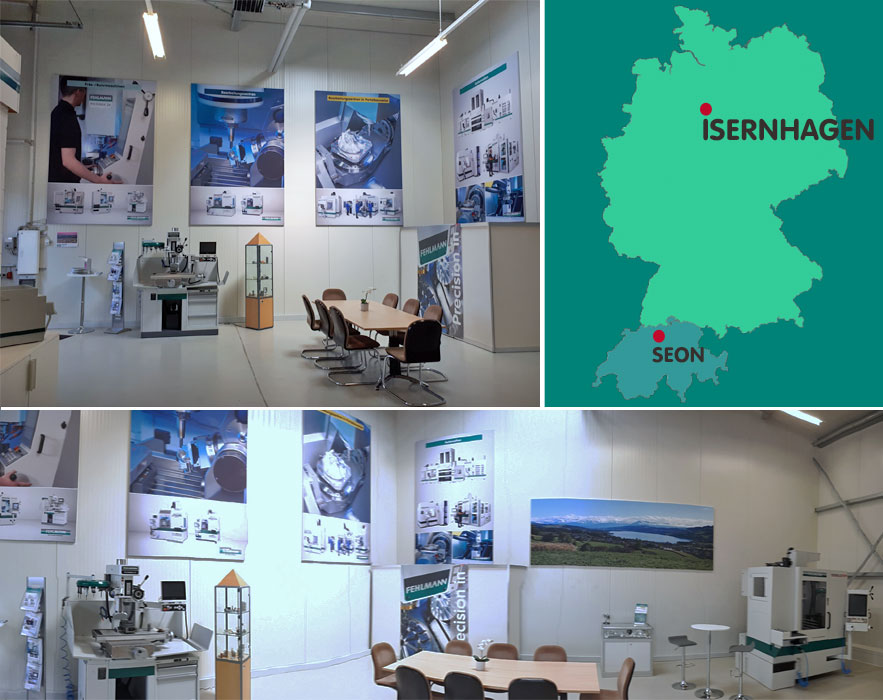 New showroom in northern Germany:

FEHLMANN precision milling machines in action – now you can also experience our machines live in Isernhagen by Hannover.
Beginning of this year, we opened our new showroom in northern Germany, at Eisenstrasse 17 in
Isernhagen by Hannover.
We currently have two of our precision milling machines on display – the PICOMAX 56 TOPand
PICOMAX 21-M. These can be experienced hands-on during a live demonstration in an everyday setting. 
Obtain interesting and practical information about and insight into FEHLMANN
machine technology and our philosophy

Experience and test our machines live

Visit our technology center in Seon, Switzerland or our new showroom in Isernhagen, Germany

Make an appointment with us now – we look forward to seeing you!
Information

Customers and interested parties may visit the showroom by appointment only. The current and recommended hygiene and behavioral rules, such as keeping your distance and - where things get tight in everyday life - wearing a mask, must still be observed.

FEHLMANN PICOMAX 56 TOP
Switch between manual and CNC – easily and quickly
at the push of a button 
FEHLMANN TOP functions (Touch Or Program™) - work manually with a drilling lever and handwheels, as well as in CNC mode with the advantages of a 3 to 4-axis CNC machine 

Easy, efficient and quick to operate, even without
programming experience

Heidenhain TNC 620 with multi-touch controls

Ideal for machining single parts and small series

Also perfect for training (introduction to CNC)
FEHLMANN PICOMAX 21-M  
With motorized table – quick, safe and precise
Ideal for training, as well as for machining single parts
and small series

Bolt circles, dot patterns and rectangular pockets -
manually and automatically

Digital display with touch screen
Fehlmann AG Maschinenfabrik
Birren 1 - 5703 Seon / Switzerland
Phone +41 62 769 11 11
www.fehlmann.com - mail@fehlmann.com